Propeller guards to protect your propeller, fishing lines, and swimmers and sea life from dangerous boat propellers.
| | |
| --- | --- |
| Propellerguards.net - a website offering prop guards for boats for safety and protection. | |


Sizing information for propeller guards, prop guards, and propeller protectors.
(Measurement "A" is the important one)
To select correct guard:

Measure the distance from under the anti-cavitation plate to the bottom of the skeg. See "A" on drawing below.

Example:

If this distance measures 12", the Guard diameter should be 12".

Select: Model 91112 Safety Guard

Or: Model 91112-4 Line Guard

The propeller diameter is always less than the distance from under the anti-cavitation plate to the bottom of the skeg, usually at least 1" to allow for ½" clearance below anti-cavitation plate and ½" above the bottom of the skeg. To select Guard size by propeller diameter only is not recommended. The above mentioned example is the correct selection guide.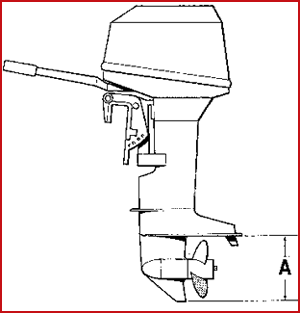 Security & Peace of Mind
On today's busy lakes, rivers and waterways littered with debris and with rocky bottoms, a propeller guard is an exceptional security feature and an inexpensive way to protect your propeller, engine and boat from damage and high repair bills. A broken propeller on rough seas can be a very dangerous predicament!

Safety and Protection
Water skiers and water sport enthusiasts, the Safety Guards can help be a "lifetime" of safety and proactive protection against accidents, injury, death and/or lawsuits. Insurance companies love this product and so will you! Protect yourself, your family, your friends and your assets now!

Savings in Time & Money
Boaters and fishermen, the Line Guards can save you $ in new props from hitting bottom, and save time in untangling line, downrigger cables and gear from your propeller and save money in lost fishing tackle!
Order Propeller Line Guards Here | Order Propeller Safety Guards Here
Propellerguards.net offers prop guards for boats for the highest level of safety, security, quality and piece of mind. The prop guards protect swimmers, skiers, sea life, propellers, engine, boats, and saves you money. There are two models and 9 sizes of each propeller guard style to choose from for all needs: rescue boats, safety boats, tow boats, ski boats, houseboats, family boats, rental fleets, dive boats, fishing boats, and more.
Visit these other popular websites:
www.allboatproducts.com www.allboatinfo.com www.allinflatables.com www.inflatable-boats-kayaks-accessories.com www.inflatableboats.ca